The VNA Meals on Wheels program delivers more than 4,000 nutritious hot meals to homebound ill, elderly, and disabled persons in Dallas County each weekday.
Since 1934, the Visiting Nurse Association of Texas has provided care in the home, where familiar surroundings, independence and support from loved ones can speed recovery or ease the uncertainty of terminal illness. The VNA staff helps people recovering from illness or injury or who need ongoing supportive care for an acute or chronic health problem. More than 3,000 volunteers and VNA drivers deliver a nutritious, hot meal to
those who are unable to provide or prepare their own meals. VNA is committed to providing specialized programs designed to meet the unique needs of the individuals and families in the communities served in North Texas.
The Pickens Foundation made two separate gifts to the VNA totaling $2 million in 2005 and 2008, the latter of which completed funding for a new Meals on Wheels kitchen and VNA community center where Meals on Wheels, Hospice, and Eldercare Friends volunteers are trained.
"When people are healthy, they enjoy a quality of life in America unmatched in the world," Pickens says. "But hunger, illness or injury can foster hopelessness, loss of independence and separation from family. The VNA, with its medical support and Meals on Wheels program, beats back those problems one visit at a time."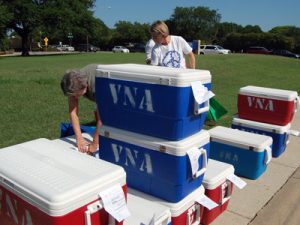 The Meals on wheels recipients are the hidden hungry – they are homebound and unable to access resources like food banks and grocery stores. And demand is high in the stagte, as Texas has the seventh-highest rate of hunger among seniors in the nation, Illness, disability and frailness can make meal preparation an ordeal. In years past, people would share their daily supper with needy neighbors. Today, many Americans work full-time and may not even know their neighbors.
"The Visiting Nurse Association provides essential services to many of those who need them most," says Robert P. Carpenter, then president and CEO said in 2008. "With this gift, Boone Pickens is helping us take the place of that missing friendly neighbor or loving family member and has empowered us to keep preparing meals for years to come."
For more information, call 214-689-2639 or visit www.vnatexas.org/.