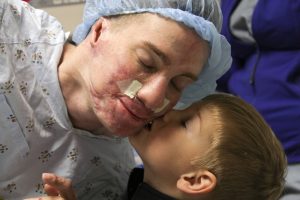 UCLA Operation Mend is a nonprofit organization that helps military personnel in need of reconstructive and plastic surgery.
Operation Mend, established in 2007, is a pioneering program that combines the best of the military's resources with the skills of UCLA Health System for a comprehensive and collaborative approach to healing United States military personnel wounded and disfigured in post 9/11 service. In a partnership with Brooke Army Medical Center (BAMC), a leading burn and rehabilitation center in San Antonio, Texas, the V.A. Greater Los Angeles Healthcare System, and UCLA Health System, Operation Mend started with facial reconstruction.
The program has since expanded in order to optimize healing — body, mind, and spirit. In addition to plastic and reconstructive surgery, mental-health support (for warriors and their families), orthopaedic reconstruction for severely damaged limbs, urologic treatment, otolaryngological care, the examination and treatment of reproductive issues, repair of airways, and design of new prosthetic ears are provided. As of mid-2014, 107 men and women has received treatment through Operation Mend. The average cost for each patient served by Operation Mend is about $500,000.
The Pickens Foundation has supported fundraising and raising awareness events.
"This is inspiring work on inspiring people," Pickens says. "The program has courageously helped courageous people regain their footing upon their return to the States. We want to do our best for these men and women when they come home."
Operation Mend began after founder Ron Katz visited San Antonio's Brooke Army Medical Center, the military's primary burn center. Katz met with troops suffering from burns and other complex blast injuries. As a board member and benefactor of UCLA Medical Center, Katz was in a position to help, by making available the services of world-class plastic surgeons. Along with his late wife, Maddie, Katz forged a private-public partnership between the military and UCLA, called Operation Mend, to provide reconstructive surgery at no cost to the injured veterans.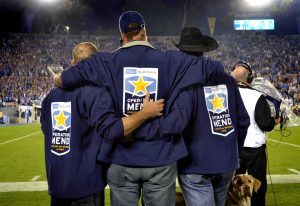 Since then, Operation Mend has reached out to dozens of service members in desperate need of plastic and reconstructive surgery. Many of these troops sustained facial trauma injuries that left them badly scarred, with missing or mutilated ears, noses and mouths. They also experienced post-traumatic stress disorder and other serious mental health issues as a result of their experience. Operation Mend focuses not just on the mental wellness of the patients, but also, their families. Emphasis is also placed on suicide prevention, which is a major issue for returning troops.
"We are extremely grateful for the generous support of Mr. Pickens and his Foundation," says Texas native Shannon O'Kelley, chief operating officer of UCLA Health System.  "Boone and his organization have become an important part of the Operation Mend family. We consider the state of Texas our second home, not just due to our partnership with Brooke Army Medical Center, but also because of people like Boone who, although they may not agree with the rationale for these wars, recognize that we have a moral obligation to take care of our true American heroes. These wounded warriors have given us the gift of freedom through their sacrifice, and we must do everything possible to give them hope and restore their dignity."
For more information on Operation Mend, visit http://operationmend.ucla.edu.