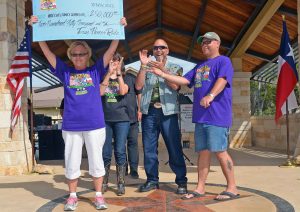 Texas Honor Ride is a 501(c)3 charity that has raised more than $900,000 for wounded U.S. military personnel and their families at Brooke Army Medical Center in San Antonio, Texas.
The Texas Honor Ride's mission is "to honor, directly help and improve the quality of life of our wounded warriors and their families who are recovering at the Brooke Army Medical Center." The annual November fundraising ride travels from Houston to Ft. Sam Houston.
The Pickens Foundation was a major sponsor of the 2012 November police-escorted ride, which followed I-10 from Houston to Freedom Park on the Fort Sam Houston base in San Antonio.
"The Texas Honor Ride has a lofty goal, and I'm honored to play a small part in this noble effort," Pickens says. "I have a long history of support for the men and women who serve this country throughout the world. We owe each of them a great debt of gratitude."
BAMC (pronounced "bam-see"), located at Fort Sam Houston, is one of two highly specialized military trauma hospitals that serves the needs of very critically wounded soldiers. BAMC is also the U.S. military's burn trauma center. The doctors, specialists, staff and facilities at BAMC are among the best in the world and paid for by the U.S. government.
Wounded troops assigned to BAMC often spend long periods of time recovering from their injuries. A majority of them spend more than one year recovering at the facility. The wounded warriors must stay (live) very close to BAMC's 24-hour facility and staff in case complications from their injuries develop. This allows easy access for their daily doctor visits and rehabilitation requirements.
BAMC physicians have discovered that, during these extended recovery periods, patients recover much faster when the patient's primary family members can help support and encourage the warrior in their rehabilitation efforts in a non-hospital environment. The government provides no funding for this "specific need."
The Warrior Family Support Center is an on-base, non-profit (donation based) organization whose mandate is to provide a "safe" environment away from the hospital environment (but on-base and very near BAMC) for the wounded warriors' families to be directly and intimately involved in their rehabilitation. For the past seven years, The Texas Honor has organized rides and sold merchandise to raise funds to support the Center.
"This year, we were tremendously honored that Mr. Pickens and the T. Boone Pickens Foundation chose to partner with Texas Honor Ride in our mission," Texas Honor Ride president Eric Story says. "His very generous gift of $100,000 helped us to reach and considerably exceed any of our past years' giving.
"This years' check for $250,000 will touch many lives. Without the donation of the T. Boone Pickens Foundation, many of our heroes' needs would have gone unaddressed. Simple words cannot express the debt of gratitude we owe, on behalf of the troops and their families, for his generosity."
For more information on the Texas Honor Ride, please visit www.texashonorride.org.