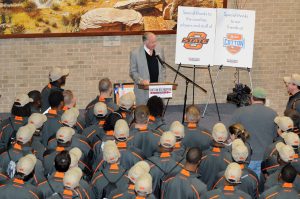 Boone Pickens advocates cross-pollination of his philanthropic efforts whenever possible.
The Oklahoma State University alum, who has contributed heavily to both academic and athletic programs at the institution, is also a long-time supporter of Texas Scottish Rite Hospital for Children, whose mission is to improve the care of children worldwide through innovative research and teaching programs.
 On at least two occasions, the collegiate bowl season has allowed the two entities to come together to cheer patients at TSRHC. Most recently, the OSU football team — in the Dallas

area to play the Missouri Tigers in the 78th AT&T Cotton Bowl Classic —brought about 100 players and coaches to the hospital December 31, 2012, handing out T-shirts, hats, stickers and other souvenirs, and signing countless autographs.
"I support a lot of organizations but two of my fondest are Oklahoma State and Scottish Rite Hospital," says Pickens, who donated $8 million to establish the T. Boone Pickens Training and Conference Center, which opened in 2009 in renovated space at the hospital. "Visiting TSRHC when the team plays in the Cotton Bowl [which it also did in 2009] is a big day for us at Oklahoma State and also a big day at Scottish Rite. The kids are impressed with these big, powerful guys, and I know our players get a lot out of the experience as well."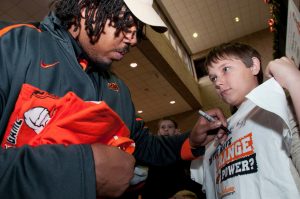 Established in 1921, all TSRHC services are provided without charge to patient families. Its Fellowship in Pediatric Orthopaedics is a full clinical fellowship and has produced more than 160 Fellows, now practicing across the U.S. and spanning six continents. TSRHC treats Texas children with orthopaedic conditions, such as scoliosis, clubfoot, hand disorders, hip disorders and limb length differences, as well as certain related neurological disorders and learning disorders, such as dyslexia.
As a leading pediatric orthopedic center, the hospital has treated more than 210,000 children since its inception, with more than 40,000 clinic visits each year. The hospital takes a multidisciplinary approach to care, tailoring treatment to the individual needs of each child and family.
TSRHC was established when a group of Texas Masons approached Dallas' first orthopaedic surgeon, Dr. W. B. Carrell, about caring for children with polio regardless of the family's ability to pay. With the introduction of the Salk and Sabin vaccines in the mid-1950s, which virtually eradicated polio in the Western Hemisphere, TSRHC broadened its focus to other orthopaedic conditions.
"We are thrilled to have one of the top-ranked teams in the country take time from their busy schedule to visit the hospital and share some very special time with our kids," says Robert L. Walker, president and chief executive officer of TSRHC. "Our patients are always inspired by spending time with these elite athletes, and the athletes tell us they are equally inspired by our amazing kids. And, of course, an OSU visit is special. We are very grateful to Mr. Pickens for his generous donation to the Center, which plays a vital role in fulfilling our mission of improving the lives of children."
Admission to TSRHC is open to Texas children from birth up to 18 years of age. For more information on Texas Scottish Rite Hospital for Children, please visit www.tsrhc.org.