The Retina Foundation of the Southwest is an independent, nonprofit institution whose mission is to prevent and restore vision loss through innovative research and treatment.
RFSW, founded in 1975 by a group of Dallas-area business leaders and ophthalmologists, is the only independent, nonprofit eye research institute in the Southwest, and one of only two in the nation. It currently operates seven research laboratories, each specializing in a vital area of vision research, and the Southwest Eye Registry, a registry of patients with inherited retinal disorders and allied diseases.
The Pickens Foundation awarded RFSW a $2.5 million grant in 2007 to fund age-related macular degeneration (AMD) research and establish a chair in the Pickens name. Age-related macular degeneration is the leading cause of irreversible vision loss in people over the age of 65. By 2020, the number of people who are legally blind in both eyes and is expected to rise 41 percent, presenting a significant national health problem and urgent need for continued research, advocacy, and detection.
"I have a long history of philanthropic support for organizations that address vision-related issues," Pickens says. "I look for organizations that are leaders in that field, and have great leadership in place. The Retina Foundation of the Southwest falls into that category, and I'm pleased to support their important work."
The Retina Foundation expects to develop novel approaches to diagnose and treat AMD. Given its size, the Foundation is well suited to efficiently discover and develop these new approaches. Some of the novel approaches will include the development of blood tests to determine who is at highest risk for losing vision from AMD; drug delivery devices that can be placed on the surface of the eye in a non-invasive manner to prevent the progression of AMD; and imaging modalities that will detect reasons for vision loss in patients with AMD and allow treatments to improve vision such as cell replacement or neurotrophic therapies.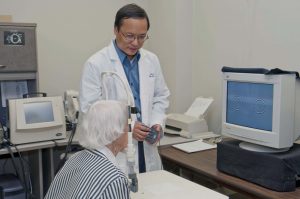 "The generous and enlightened philanthropy of the T. Boone Pickens Foundation has enabled the Retina Foundation to extend and expand our ongoing research programs on understanding, preventing and repairing damage from macular degeneration," then RFSW president Rand Spencer, M.D., said in 2009. "His support has allowed us to hire one of the world's leading vision scientists, Karl G. Csaky, M.D., PhD, as the T. Boone Pickens Chair in Macular Degeneration at The Foundation. Dr. Csaky brings very unique expertise, as he is one of few clinician scientists who both treats patients with AMD and performs clinical and laboratory research in this disease. We are excited that with the team in place at the Foundation, the opportunity exists to develop new treatments not only for the citizens of Dallas but hopefully all patients with AMD."
What sets the Retina Foundation apart is the service we provide to our patients and their families at no cost. Each year, there are more than 2,000 infants, children, adults and seniors who visit the Retina Foundation for advanced visual evaluations free of charge. Our evaluations are unique because many of these testing methods are only available at the Retina Foundation. Patients are referred by local ophthalmologists to help in the diagnosis and treatment of their vision loss.
For more information about the Retina Foundation of the Southwest, visit www.retinafoundation.org.