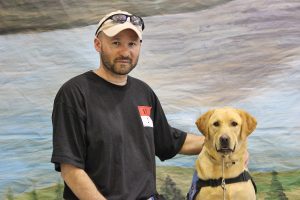 Texas-based Patriot PAWS, a 501(c)(3) non-profit organization, trains and provides service dogs at no cost to disabled American veterans and others with mobile disabilities in order to help restore their physical and emotional independence.
Patriot PAWS, a certified member of Assistance Dogs International, trains service dogs to perform various behaviors, including help for patients with post-traumatic stress (PTS). The primary goal of the organization, founded in Rockwall in 2006, is to increase an individual's self-sufficiency; services performed by each dog depend on the needs of the owner. Through April 2014, the organization has trained and placed 75 service dogs with its clients. It has a waiting list of 104 Veterans seeking the dogs .

The Foundation has supported Patriot PAWS because "it has a significant impact on the quality of life of its clients, many of them whom have served this country faithfully," Pickens says. "We can really see the impact of this philanthropy."
Army Staff Sergeant Keith Campbell served two tours in Iraq and one in Afghanistan, and was wounded by an IED on his second tour in Iraq. He suffers from post-concussive syndrome, migraines, a herniated disc in his back, and PTS.
In March 2012, Campbell received Star, a female yellow Lab donated as a puppy to Patriot PAWS by the Order of the Eastern Star. Star helps Campbell with routine everyday chores, such as the laundry, brings him his phone, picks up dropped items so that he won't have to bend over and helps him get up and down. Campbell wanted a service dog in part to help him with his social skills, to deal with stress, and for companionship since he lives alone.
"She sleeps with me, so now I have better dreams," Campbell says. "If I move about in my sleep, she will snuggle up to me and put her head on my chest."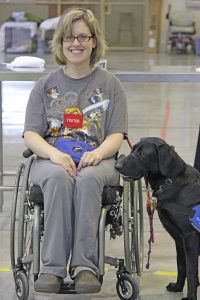 Wheelchair-bound Layla Sauer is a young college student who suffers from cerebral palsy. She contacted Patriot PAWS for a service dog to help her deal with the challenges of university life. A black Lab named Rockxi has helped Sauer achieve a level of independence she had never dreamed possible. Rockxi helps Sauer transfer to and from her wheelchair, open doors, pick up dropped objects, and provides her with confidence in her abilities by lessening the impact of her disability.
Charles Trask, a U.S. Navy veteran who volunteered to serve in-country in Vietnam in 1968, left the service physically unharmed and went on to become a Salvation Army minister. Thirty-seven years later, he's retired, diagnosed with delayed-onset PTS and 100 percent disabled. Charles had become a recluse, unable to deal with anyone or anything, including his wife Toni, until receiving Summit in May 2011.
"Summit has given me a reason for being," Trask says. When Trask suffers from a flashback, Summit senses it and nuzzles him to redirect his attention to her, and when he has a nightmare, she licks his face to wake him up. Trask uses a cane to walk, so Summit gets the phone for him, picks up dropped items, carries notes to Toni, and performs many other tasks to make his life easier.
Once fully trained, Patriot PAWS dogs select the veteran whom they wish to serve by working with multiple applicants over a period of several days. It usually becomes apparent rather quickly which person the dog is bonding with and working for more diligently.
"We are grateful for the Pickens Foundation support," says Patriot PAWS founder Lori Stevens, a Certified Pet Dog Trainer with more than 20 years experience. "Our small paid staff is assisted by a host of volunteers from all walks of life doing everything from administrative work to socializing our dogs to holding demonstrations and fundraisers on our behalf and much, much more. I call them my 'angels unawares,' from the quote from Hebrews."
Service dogs are initially selected from breeders and local animal shelters. They are carefully evaluated prior to selection and only the best of the best become candidates, graduate, and are certified. The cost to train a service dog is about $27,000; this represents locating and evaluating puppies, general care, Veterinary care, 12 to 18 months of training, support for veteran training, equipment and follow-up support.
For more information on the Patriot PAWS program, please visit www.patriotpaws.org.