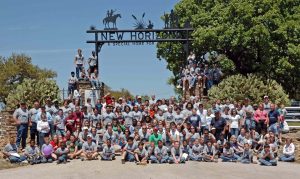 Goldthwaite, Texas-based New Horizons Ranch & Center Inc. 's mission is "to provide an environment where children, families and staff are able to heal and grow through caring relationships and unconditional love and acceptance."
A $1.83 million gift from the Pickens Foundation, presented in December 2007, allowed New Horizons to completely renovate its Residential Treatment Center, commonly known as the "Ranch", in Goldthwaite. The 150-acre center includies three homes, a chapel, school facility, kitchen and dining rooms, among other amenities. It provides individualized, intensive residential treatment programs for boys and girls ranging in ages seven to 17, suffering from emotional, behavioral, and adjustment problems.
"I've become more and more concerned with youth at-risk in Texas and across the nation," Pickens says. "I've also become more appreciative of those on the front-lines in helping address this issue. When I heard about the good work being done at New Horizons, it was an easy sell."
The Ranch, home to 56 children from all areas of Texas, has an accredited charter school, a horse barn and riding arena, a swimming pool, playgrounds, campus lakes, football and baseball fields, a tennis court, and an indoor gym. It employs a 24-hour integrated treatment team approach that combines therapy and services carefully designed to meet the individual resident's treatment needs. Treatment is directed by a professional team consisting of a psychiatrist, a psychologist, licensed clinical therapists, social workers, state accredited special education teachers, and trained direct care staff who employ a social model utilizing group interaction to teach accountability; social skills; and ownership of one's behavior, emotions, and life choices.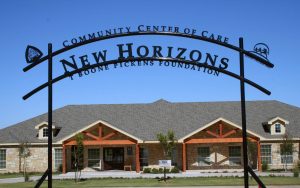 New Horizons serves more than 1,200 children and families each year in surrounding Texas communities through its continuum of care. New Horizons is licensed by the Texas Department of Family and Protective Services (TDPRS), and is a member of the Texas Alliance for Child and Family Services.
The organization's mission statement holds that "children are our future, and therefore our first priority … that children deserve nurturing relationships free from chaos, abuse and neglect. Our aim is to surround children with the most dynamic, involved, committed, caring, and quality adults who provide the arena of relationships as an avenue for change. Our staff is provided with the tools, experiences, and expectations to profoundly and deeply affect the lives of children they are around."
The Pickens award was a significant step toward that end.
"Many of the children and youth served by New Horizons have experienced significant trauma and loss, and need the intensive treatment surrounded by supportive relationships that the Ranch can provide," says New Horizons executive director Michael Redden. "Mr. Pickens' gift and interest in New Horizons will help ensure these critical needs are met for children of Texas and that they continue to be met in quality, family-like facilities. We are so grateful to him for helping us continue our efforts in such a significant way."
New Horizons' Ranch is located 8 miles west of Goldthwaite, Texas. For more information on New Horizons, call 325-437-1852 or visit www.newhorizonsinc.com.