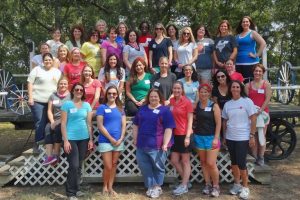 Through a $250,0000 gift from the Pickens Foundation in 2009, the Junior League of Dallas Inc. — an organization of women committed to promoting voluntarism, developing the potential of women, and improving the community through the effective action and leadership of trained volunteers — was able to further advance its mission by launching theT. Boone Pickens Leadership Institute.

The JDL membership is comrpised of a diverse group of more than 5,000 women who annually give nearly $4 million in value to the Dallas community through financial donations and volunteer hours. The Institute features an in-depth leadership development and training program for active and sustaining members of the League. The program is designed to identify and build strengths, enhance leadership skills, develop relationships and prepare participants for leadership service in their community.
The Institute's alumnae group had a unique opportunity this in October 2013 to have lunch with Pickens and participate in engaging conversation. The lunch provided a casual forum where alumnae were able to learn more about Pickens and thank him for his support of the leadership program. Additionally, the alumnae enjoyed the opportunity to personally share with him what the Institute has meant to them, and how the program has influenced and enhanced their leadership abilities.
"Seeing tangible results from my philanthropy is important," Pickens says. "I enjoyed the chance to understand firsthand how the Institute is helping make a difference in local leadership."
The organiation is committed to providing resources to better its community and developing the leaders, visionaries, and change agents of tomorrow. Its Active and Sustaining members continue to implement their JLD leadership training by serving on numerous community boards and coalitions, as well as leading businesses, nonprofits, and civic organizations.
"With more than 180 graduates of the TBPLI program, the JLD has experienced the significant benefit created by Mr. Pickens' investment," president Laura K. Johnson says. "More graduates have chosen to serve in leadership roles within the League and at other non-profit agencies. We are grateful for Mr. Pickens' support of the program and his commitment to developing the future leaders of the Dallas."
For more information about the Dallas Junior League T. Boone Pickens Leadership Institute, please visit www.jld.net.