Fisher House is a unique private-public partnership that meets a humanitarian need for American military personnel beyond that normally provided by the Departments of Defense and Veterans Affairs.
Because members of the military and their families are stationed worldwide and must often travel great distances for specialized medical care, the Fisher House Foundation donates "comfort homes," built on the grounds of major military and VA medical centers. These homes enable family members to be close to a loved one at the most stressful times — during the hospitalization for an unexpected illness, disease, or injury.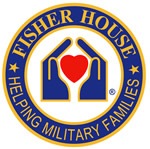 The Pickens Foundation has donated $1.7 million to fundraising drives that built Fisher Houses near the Dallas Veterans Affairs Medical Center and in San Diego, California.
"We owe those who have served us in our armed service great honor and support, none more so than those who return injured," Pickens says. "This program, which provides support for both the veteran and the family, fits well with my philanthropic mission."
These homes are located at major military and VA medical centers nationwide, close to the medical center or hospital they serve. Fisher Houses have up to 21 suites, with private
bedrooms and baths. Families share a common kitchen, laundry facilities, a warm dining room and an inviting living room. Fisher House Foundation ensures that there is never a lodging fee. Since inception, the program has saved military and veterans' families an estimated $235 million in out of pocket costs for lodging and transportation.
"The need is there, and we are responding to it," explains foundation chairman Ken Fisher. "We are grateful to the organizations such as the T. Boone Pickens Foundation, whose donations enable us to build new Fisher Houses."
Here is a look at the Fisher House support:
Families served: More than 22,000 in 2013
Daily capacity: 832 families
Families served: More than 220,000 since inception
Number of lodging days offered: More than 5.2 million
There are 64 Fisher Houses located on 23 military installations and 24 VA medical centers. Many more houses are under construction or in design.
Typically, the houses are 5,000 to 16,800 square foot homes donated by the Fisher family and Fisher House Foundation. Each house is designed to provide 8 to 21 suites. All are professionally furnished and decorated in the tone and style of the local region. The houses can accommodate 16 to 42 family members. They feature a common kitchen, laundry facilities, spacious dining room and an inviting living room with library, and toys for children. Newest houses are 100 percent handicap accessible and include elevators. A Fisher House is a temporary residence and is not a treatment facility, hospice or counseling center. The program began in 1990, and has offered more than five million days of lodging to more than 180,000 families.
For more information on the work of the Fisher House Foundation, go to www.fisherhouse.org or call toll-free 888-294-8560.