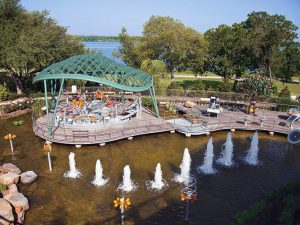 The 24,424-square-foot T. Boone Pickens Pure Energy Learning Gallery, one of the largest attractions in the Rory Meyers Children's Adventure Garden at Dallas Arboretum & Botanical Gardens, opened in late 2013.
The Foundation supplied a $5 million grant to help develop the 8-acre outdoor science laboratory located on the southeastern shore of White Rock Lake in Dallas
"I'm excited about the hands-on learning experience that the next generation of geologists and engineers will have in the energy learning center," Pickens says. "Challenging young minds is the way we will adapt to the future energy demands."
The adventure garden has 17 Learning Galleries, offering a comprehensive outdoor science laboratory where children can learn about nature in nature. One of the largest and most prominent of the Learning Galleries is the T. Boone Pickens Pure Energy Gallery. Pure Energy is anchored by a 30-foot-tall Energy Tower, and features three separate islands, each devoted to an alternative source of energy: water, wind, and sun. From an interactive machine that demonstrates how wind energy can be transformed to make things operate to high-powered water pistols and a solar tree with leaves composed of photovoltaic cells, the exhibits in Pure Energy deliver science education with a high dose of wow.
"Everyone has fun firing over-sized water guns to see how much real energy they can create," says Maria Conroy, the Arboretum's vice president of education. "We believe in the Sesame Street philosophy — that when you have something aimed at kids, you have to have material in there that appeals to teens and adults as well."
More than a decade in the planning, the Children's Adventure Garden has more than 150 exhibits that are interactive, hands-on, and fun.
"The Arboretum will expose children and their families to the mystery and excitement of science, and inspire them to be better stewards of our environment," Arboretum's president and CEO Mary Brinegar says.   "We intend to set the gold standard for children's gardens. In fact, we believe that in its design, size, and scope, this Children's Garden is unique in the world. We are so very grateful for the support and endorsement of the T. Boone Pickens Foundation for partnering with us in this significant project."
The Arboretum grounds, which include 66 acres of gardens and fountains with a view of the lake and the downtown Dallas skyline, is a research and education facility as well as a local attraction.
For more information on the Arboretum, visit www.dallasarboretum.org.