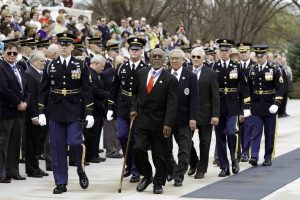 Each year the Congressional Medal of Honor Foundation holds a special ceremony in the shadow of the Tomb of the Unknowns on March 25th (National Medal of Honor Day), during which it recognizes three ordinary Americans who have accomplished extraordinary acts of service and bravery for the sake of others.
The Pickens Foundation has supported The Citizen Service Above Self Honors, which celebrates the stories of everyday "heroes" in America.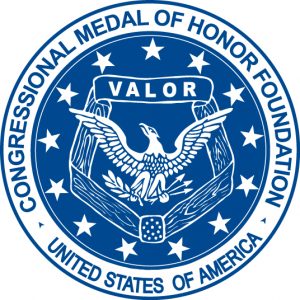 "People perform selfless acts in this country every day, and this program is a wonderful way to honor Americans who serve their fellow citizens in ways most of us may never hear about," Pickens says. "This ceremony celebrates the best of what it means to be an American, and I am delighted to support it."
The fewer than 100 living Medal of Honor recipients, who have been on the receiving end of countless accolades and respect from the American public for their extraordinary valor and selflessness, banded together in 2007 to create a national platform to promote "Service before Self." At the heart of this initiative is the Citizen Honors, which recognizes and honors ordinary Americans who are extraordinary by going above and beyond on behalf of their fellow man either through a single act of heroism involving risk to one's life or by demonstrating a profound long-term commitment to service above self. The theme is that every day in the United States, ordinary citizens perform extraordinary deeds.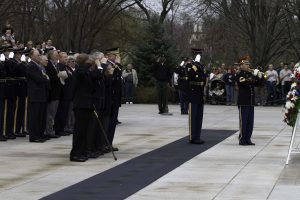 The Congressional Medal of Honor Foundation, with the support of organizations like the T. Boone Pickens Foundation, is committed to working to change these perceptions by continuing to use our platforms to inspire and celebrate unsung acts of courage and self-sacrifice around the country.
"There are many ways to support our organization and what we stand for in this country, and we are lucky to be one of the many that the T. Boone Pickens Foundation chooses to support," says W. Thomas Matthews, co-chairman of the Congressional Medal of Honor Foundation. "Mr. Pickens has shown his love of country and true patriotism over these many years through his incredible generosity. The CMOHF board of directors, along with the recipients of the Medal of Honor, is most grateful for his belief in projects like Citizen Honors."
For more information about the Congressional Medal of Honor Foundation/Society, visit www.cmohfoundation.org or www.cmohs.org.