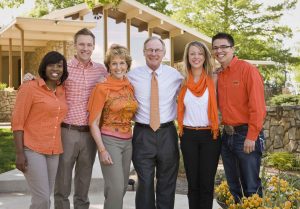 Boone Pickens has been extremely generous to Oklahoma State University, giving more then $500 million to the institution, split almost evenly between academic and athletic initiatives — all the while urging his fellow alums to donate to OSU as well.
When the OSU Foundation, a private fundraising organization whose mission is to unite donor and university passions and priorities to achieve excellence, launched a Branding Success campaign, Pickens offered some extra incentives for the cause.
On February 26, 2010, Pickens announced a testamentary matching gift of up to $100 million to the university's $1 billion Branding Success campaign. He added another $20 million to his pledge as the campaign's February 2011 end neared. In the end, 2,665 donors combined for more than $73.4 million in gifts and pledges in addition to his $120 million. This total commitment of more than $193.4 million created or enhanced 396 endowed OSU student support funds.
"This place is special," Pickens says. "It is good to see many OSU grads and friends getting behind the campaign. They love OSU, just as I do, and they want it to be the best in everything – academically and athletically. We enjoy strong leadership at OSU, and the leaders have big plans. They need resources to expand opportunities for aspiring students from across Oklahoma, this country and around the world. Now, we will have the money to make it happen and move OSU to the top."
Among those Pickens inspired are OSU President Burns Hargis and his wife, Ann. They are giving $1.5 million for freshman scholarships, which qualifies for another $1.5 million from Pickens.
"One of the highpoints of being at Oklahoma State is working with students," Burns Hargis said. "Ann and I love being with our students. And, they are incredibly inspiring to us. Many students across our state have the ability to succeed in college and recognize the benefit a degree from Oklahoma State can provide them. But, they simply must have some financial support to pursue it. We decided to help those students through this gift."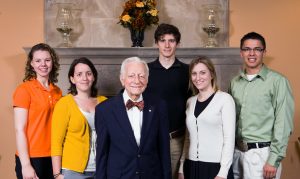 Even non-alumni such as C. Hubert Gragg found Pickens' offer too generous to ignore. Gragg was a lifelong friend of the late Henry Bellmon, a former U.S. Senator and two-time Oklahoma governor who provided the initial vision for OSU's Scholar Development and Recognition program. Gragg honored Bellmon with a $1 million gift to that area, including $750,000 for the Bellmon Scholarship Endowment. That portion qualifies for a $1.5 million match from Pickens, pushing the total impact to $2.5 million.
"Oklahoma State was very important to (Bellmon), and scholar development was one of his passions," Gragg said. "If my gift can help the brightest students at OSU pursue their dreams, I think Henry would be pleased by that."
This is the second Pickens challenge sparking a record-breaking outpouring of generosity at OSU. In 2008, his $100 million commitment for endowed faculty positions prompted about 900 donors to add $68 million in just 40 days. With matches from the Oklahoma State Regents for Higher Education, the total impact balloons to more than $330 million.
Pickens' generosity and clever challenges have helped the Branding Success campaign exceed $830 million in gifts and commitments, putting it well ahead of pace to reach its goal of $1 billion before December 2014.
For more information, visit www.OSUgiving.com or call 800-622-4678 to speak with someone directly about joining Pickens in supporting higher education.