Boone Pickens, his Foundation, and his employees have long supported the American Red Cross, a humanitarian organization that works in the U.S. and around the world to prevent and alleviate human suffering in the face of emergencies.
The organization, founded on May 21, 1881, provides compassionate care to those in need. The Red Cross shelters, feeds and provides emotional support to victims of disasters; supplies about 40 percent of the nation's blood; teaches skills that save lives; provides international humanitarian aid; and supports military members and their families.
Pickens' $7 million contribution in 2005 in the wake of Hurricane Katrina is the largest individual gift in the organization's history. As recently as March, 2013, Pickens wowed Celebrity Apprentice when an emissary wearing his beloved Oklahoma State University colors delivered a $100,000 check earmarked for the American Red Cross to country star Trace Adkins on the show.
"I believe in results, and the American Red Cross delivers results time and time again in a crisis," Pickens says.

The Red Cross responds to about 70,000 disasters in the United States every year, ranging from home fires that affect a single family to hurricanes that could impact several million people. In response to disasters, the Red Cross provides shelter, food, relief supplies as well as health and mental health services to help families and entire communities get back on their feet. Although the Red Cross is not a government agency, it is an essential part of the response when disaster strikes.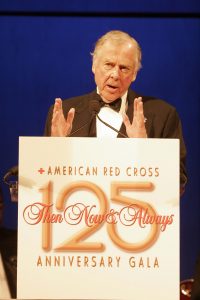 "We are very thankful for the T. Boone Pickens Foundation's generosity," said Gail McGovern, president and CEO of the American Red Cross. "Their steadfast support has enabled the Red Cross to provide comfort and hope to people across the country who have been affected by disaster, and allows us to offer them a helping hand as they begin the road to recovery."
The Red Cross also helps military members, veterans and their families prepare for, cope with, and respond to the challenges of military service. Emergency communications, training, support to wounded service members and veterans, and community resources help an average of 150,000 military families and veterans annually.
The Red Cross is the largest single supplier of blood and blood products in the United States. Each year, about 3.5 million people donate blood through the Red Cross, helping to provide roughly 40 percent of America's blood supply. It the nation's leading provider of health and safety courses, such as CPR, First Aid and Lifeguard training. Each year, more than 7 million Americans participate in Red Cross training programs, including first responders, educators, babysitters, and people who want to be prepared to help others in an emergency.
The American Red Cross is part of the world's largest humanitarian network, with 13 million volunteers in 187 countries. Each year, its efforts reach an average of more than 100 million people across the globe.
For more information about the American Red Cross, visit www.redcross.org.